New Crown Expect to Meet You in BrauBeviale 2019
Views:214 Author:Site Editor Publish Time: 2019-10-19 Origin:Site
New Crown Machinery is going to attend BrauBeviale 2019. The exhibition will start on 12 - 14 in November 2019. It's address is Exhibition Centre Nuremberg, Germany. We are looking forward to see you in BrauBeviale 2019. Our booth is 0123. We sincerely welcome your visit and inquiry.
The BrauBeviale has taken place in the Exhibition Centre Nuremberg since 1978. The event had already attracted 152 exhibitors and 2,478 visitors to the Exhibition Centre Nuremberg by 1980. Today's capital goods exhibition originated in Bamberg, where it was launched in 1957 as a training course and social event for the sector.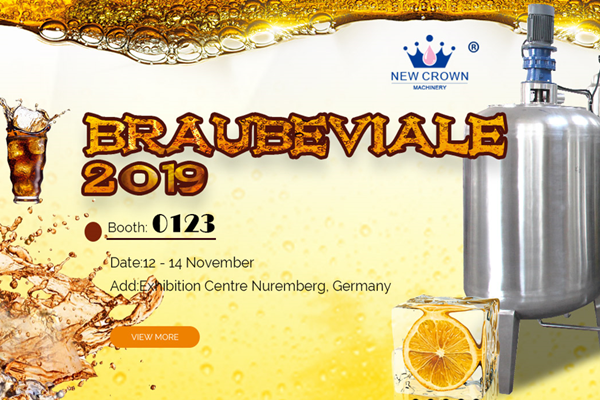 Coming to BrauBeviale is a must for professionals of the beverage industry and is the perfect platform for learning about industry trends in a relaxed environment.
BrauBeviale has put together an exciting supporting programme for its trade visitors from all over the world again this year, which will encourage them to engage with each other and talk shop. The theme for the 2019 show is the future, given that digitalisation and automation offer the beverage industry enormous potential, as they do in other industries too.
We will send our senior engineer and most experienced salesman there to introduce our water to the visitors. They will answer all your questions professionally with their knowledge of technology and products. At the same time, we will take our newest product to the exhibition to show it to our visitors and make all of you know more about our products and our company. Carbonated drink filling machine and water filling machine of New Crown are in excellent quality, we will never let you down. Our beer bottling machine and beverage canning machine have great performance and are good for mass production, which can improve production efficiency and amount.
Nuremberg is the ideal location for this inspiring and innovative trade fair, because our city has a beer tradition that stretches back many, many years. So don't let the opportunity to continue sampling the wide variety of Franconian beers in Nuremberg's charming old town after a day at the exhibition pass you by.
New Crown Machinery, located in Zhangjiagang City, China, plans, develops and manufactures machines and complete lines for the fields of process, filling and packaging machines. Its product portfolio is rounded off by information technology and factory planning. As an international technology group, the Company focuses on world-leading process technology and components for sophisticated production processes.