New Crown Is Waiting for You in CBST
Views:225 Author:yfcrownMaker Publish Time: 2019-11-08 Origin:Site
New Crown is going to attend CBST China International Beverage Industry Exhibition 2019. The exhibition will start on 18th-20th in November 2019. Its address is Hall N1, SNIEC, Shanghai, China. You can find New Crown on booth 1G07 in hall N1. We sincerely welcome your visit and inquiry.
CBST China International Beverage Industry Technology Exhibition, every two years, is China's leading professional exhibition with beverage industry technology as the main body. It is a brand exhibition with extensive influence and authority in China's beverage industry.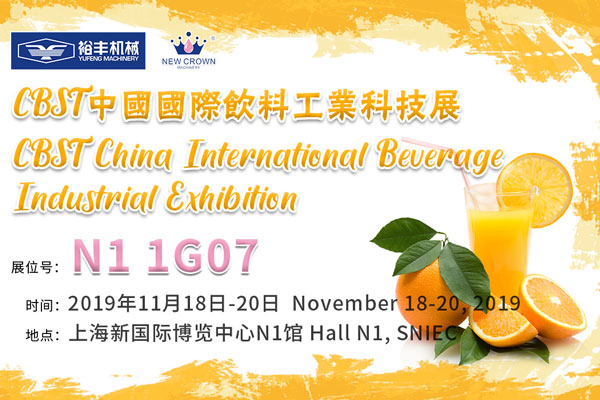 Our senior engineer and best salesman will be there to introduce our filling machines to the you. With their knowledge of technology about water filling machine and beverage filling machine, they will make you fully know about New Crown's products. At the same time, we will take our newest product to the exhibition to show it to our visitors and make all of you know more about our products and our company.
Since being founded in 2001, New Crown Machinery has become far more than a traditional-style machinery and line manufacturer: it has evolved into whole project designing company, who gets the whole package of a complete recycling packaging design.
New Crown Machinery develops and manufactures machines and complete lines for the fields of process, filling and packaging technology. Its product portfolio is rounded off by information technology and factory planning. As an international technology group, the Company focuses on world-leading process technology and components for sophisticated production processes.
New Crown – the best filling machine manufacturer! You deserve to choose!