What Is 3 in 1 Water Filling Machine?
Views:218 Author:Site Editor Publish Time: 2019-10-30 Origin:Site
3 in 1 water filling machine is a fully automatic multi-functional combined unit integrating flushing, filling and capping. It is suitable for all kinds of airless beverages, oil vinegar, fruit packaging and sealing. The line has unique design, novel style, complete functions and strong adaptability.
The board is stuck in the bottle mouth. The 5 gallon water filling machine valve is lowered and raised by the valve lifting mechanism under the action of the cam. After the filling process is completed, the filling valve rises and leaves the bottle mouth after filling the knot, and the bottle enters the capping machine through the card bottleneck transition dial.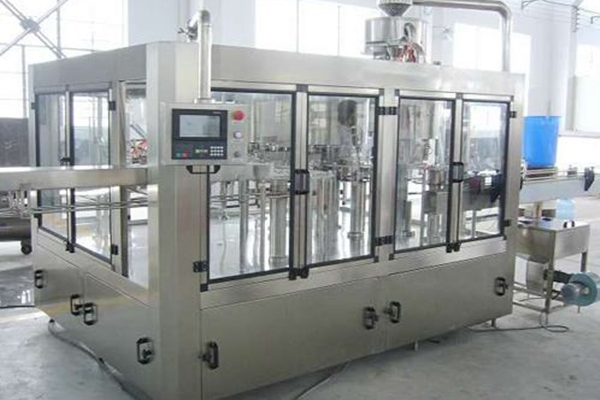 Hold the bottle upright and prevent it from rotating. The capping head keeps revolving and self-rotating on the capping machine, and realizes the capping process and the process under the action of the cam. The finished bottle is transferred from the screw cap to the bottle conveyor chain through the bottle puller, and the three-in-one bottle is transported by the conveyor chain.


Above the high point of the equipment, there is an appropriate passage at the inlet and outlet and an exhaust vent is left at the bottom of the sealing window.
Main features




1. The machine is compact in structure, complete in control system, convenient in operation and high in automation.

2. The parts in contact with the material are made of high quality stainless steel, which is corrosion resistant and easy to clean.

3. Adopt high-precision, high-speed quantitative filling valve, the liquid level is accurate without liquid loss, ensuring excellent filling quality.

4. The capping head adopts a constant torque device, which guarantees the quality of the cap and does not damage the cap

5. Efficient cover system and perfect cover and protection device

6. There is a complete cleaning management system to ensure the quality of the flushing before filling.

7. Change the shape of the bottle, just replace the star wheel and the curved plate to achieve, the operation is simple and convenient.

8. With perfect overload protection device, it can effectively protect the safety of machines and operators.

9. This machine adopts variable frequency speed regulating motor, which can conveniently adjust the production capacity convenient.